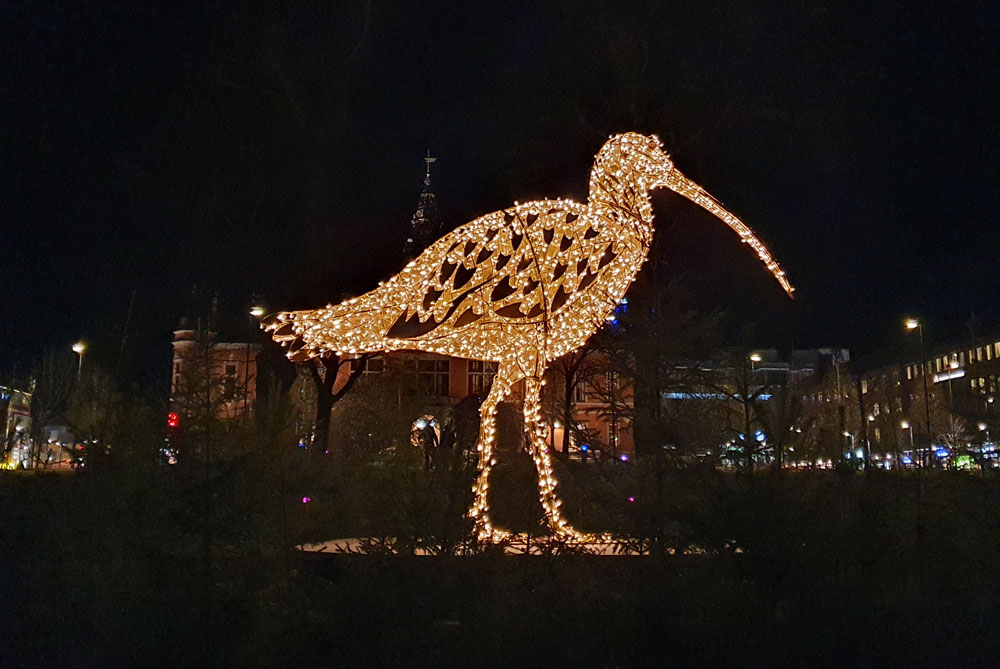 In English
Here you find the history of Spinnel-Anna. You  also have links to different pages on this web-site. 
The picture shows Västerbottens landscape animal Storspoven made of lights.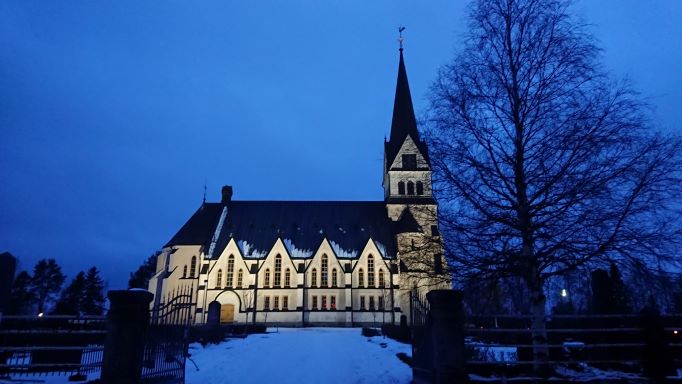 Spinnel-Anna b.1724 d.1812
The Familyname Spinnel-Anna is taken by a woman who went under the name Anna Spinnel. She was something extra, she is spoken wide in the Vasterbotten History. She was born on august 10th 1724, daughter to the soldier Per Spinnel and his wife Margaretha. She was born in Vasterhiske, a little bit outside Umea, but moved with her family to the little village of Tavelsjo by the age of 3. There she lived until 1755 when she married Eric Andersson, a farmer from the village of Hjuken in Degerfors County (Vindeln).They lived in Hjuken for about ten years before they moved to their new settlement Storsandsjon, about 15 kilometers outside of Vindeln. The history about how they achived their settlement in Stora Sandsjon is one of the many stories that made Spinnel-Anna a part of our local history.
It is said that Anna and her husband were looking for a new place to make a settlement, they found such a place near Stora Sandsjon. In 1764 they placed a petition to the governors office in Vasterbotten for a new settlement. There was a couple of other farmers in Hjuken that also was interested in this settlement, especially one man, the local inn owner "Gam-Hjuk", he was a dangerous opponent to them both. "Gam-Hjuk" decided to travel to the governor in Umea to claim he right for the settlement.

The distance from Hjuken to Umea was about 72 kilometers. When Spinnel-Anna found out that "Gam-Hjuk" had left for the city she tried to get there before him although she was expecting a baby very soon. She went most of the way by skies. When she arrived in Hissjo, a village just outside Umea she found out that "Gam-Hjuk" was there too. She came to a farmer and told him about her problem and asked for help. The farmer came up with a solution. He arranged so that "Gam-Hjuk" would be invited to a wedding that was due that very day.
"Gam-Hjuk" was known for his drinking and stayed that night. Meanwhile the farmer had given Spinnel-Anna a ride to Umea, and she was with the governor when he opened in the morning. When "Gam-Hjuk" came to Umea did Spinnel-Anna walk out through the door with the partition in her hand. (This took place in the fall 1765. Her son Olaus was born on december 12 the same year).
Annas father, Per Olofsson Spinnel, was born 1693. He grew up as oldest child of 5 in Hakmark, just outside of Umea, where his father settled down 1701. Per was a soldier , and was wounded in battle 1718. He continued as a soldier until 1727, when he became a farmer with his wife and family in Tavelsjo, 30 kilometers from Umea. Per died 1757. His diagnose was "chest pains" and no breath. During his years as a farmer he was often in court for misbehaving. Once for missusing alcohol and another time for cursing to people going to and from church, and also for hitting people and animals. Per was some of a troublemaker.
Annas mother, Margareta Erichsdotter was born in 1693, daughter to farmer and soldier Erich Erichson Hjulman from Tavelsjo. It should be mentioned that Margareta aswell as her husband Per often was in court. Once for "dressing over her class". Her crime was that she had worn whoredress at easter in church. This did so she was sentenced to 8 days in prison on water and bread. Margareta had the legal right too inherit her parents settlement, and as we have mentioned she came to live with her husband, Per, in Tavelsjo. Margareta died 6 may 1774 of elderly pains after being in bed for 2 years.
Spinnel-Anna was the next oldest child amongst 9 to Margareta and Per. Spinnel-Anna and her husband Eric is belived to have moved to Storsandsjon that very autumn they recived the partition. She gave bith to a baby boy on December 12 1765. Anna and her husband had 11 children 5 died before the age of 5 and 3 of them died within a week in smallpocks. The Spinnel-Anna Family name is relatives to Annas second and oldest child Anders Ersson. When Anders grew up he bacame very strong so they called him "The Bear from Lake Storsand" The family book 8 trees are relatives to Anders children.
The memorial stone
This stone was was erected in memory of Stora Sandsjön´s founder Erik Andersson and his wife Anna Spinnel b. Persdotter. They founded a settlement here in 1765.
The family honored their memory in 1965
The stone was picked up from Ida and Enar Vesterberg´s homestead. The memorial stone was originally placed in the courtyard where Spinnel-Anna settled in her new home. The stone was moved in 1995 to the meetinghouse of the village in Storsandsjön to be available to alla relatives.
The direct translation of the villagename Storsandjön is "Great Sandlake".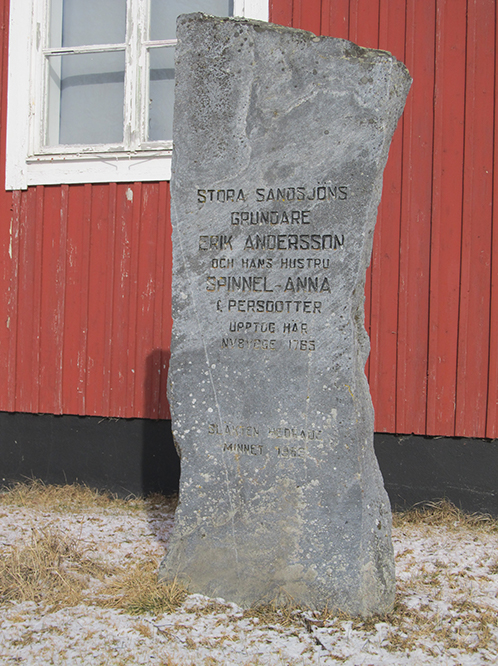 Do you have a question or want to update information?